VPS Hosting Package
VPS-2G
Price: €9.99 Monthly
CPU Core: 2
RAM: 2 GB
Disk: 25 GB NVMe Storage
Traffic: 4 TB
Network: 500 Mbps
1 IPv4
1 IPv6/112 Subnet
Order now
VPS-4G
Price: €19.99 Monthly
CPU Core: 2
RAM: 4 GB
Disk: 50 GB NMVe Storage
Traffic: 8 TB
Network: 500 Mbps
1 IPv4
1 IPv6/112 Subnet
Order Now
VPS-8G
Price: €39.99 Monthly
CPU Core: 4
RAM: 8 GB
Disk: 100 GB NVMe Storage
Traffic: 16 TB
Network: 500 Mbps
1 IPv4
1 IPv6/112 Subnet
Order Now
High Quality Service
Our VPS are hosted on enterprise hardware equiped with Intel Xeon E-2136 (3.3-4.5 GHz) CPU , DDR4 ECC RAM and NVMe SSD disk in raid 1.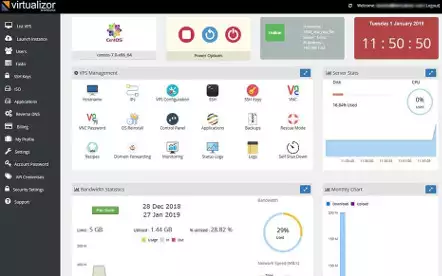 Virtualizor VPS Panel
The simplest VPS panel where you can start/stop/restart and perform various VPS tasks.
Awesome Support
Do you have a problem with our services or any question just open a support ticket and we'll try to assist you as best we can.
Contact us